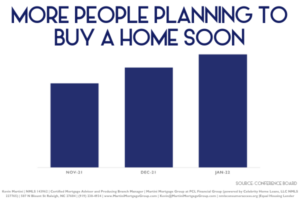 Some have the perception real estate is seasonal and because of this perception some are waiting until spring until they start the homebuying process. Perception is not always reality. In a few parts of the U.S. there may be seasonal patterns but the real estate market in Raleigh, North Carolina does not hibernate.
Buy Your First Home in Raleigh, NC
Homebuyer demand is high today as more people are seeking to take advantage of the historic mortgage rate environment before it disappears. Sure, home loan rates today are higher today than they were last year; however, from a historic standard, they are very low. Raleigh home buyers are accelerating their home buying steps and not waiting to buy a home.
When thinking of buying real estate for the first time or as a repeat homebuyer, the first step is always the loan, not the home. In any market, especially in a highly competitive market, there is not a substitute to secure loan approval from a Certified Mortgage Advisor with the Martini Mortgage Group before you find your home. Prequalification from a loan officer is nice but irrelevant since it only passes on to a seller one is ready and willing whereas a loan approval from the Martini Mortgage Group undoubtedly broadcasts to the seller you are ready, willing, able and you are making a 'same-as-cash' offer.
The most recent Consumer Confidence Survey from the Conference Board has shared the percentage of people planning to buy within the next 6-months has increased significantly since last fall.
The graph clearly illustrates the number of people fast-tracking their plans to purchase a home has accelerated over the last 3 months. Simply put, many future homebuyers are realizing they should act sooner rather than later. More people are moving up their plans to buy a home and others are actively taking the steps to put their plan into action. Again, the first step is the loan not the home.
To echo this sentiment, according to realtor.com report, the average home sold faster this January than any other January on record. Homebuyers are not just accelerating their plans, they are taking swift action and seizing the current historic mortgage rate environment and locking in their long-term cost of homeownership with a fixed rate mortgage.
Martini Mortgage Group Bottom Line
Some homebuyers are rethinking their strategies and they are moving their plans forward – others are making their moves now. Buyer demand is high with some inventory challenges in the Raleigh area. It is critical, now more than ever, to be laser focused and have price and cost clarity before the home. Review your options with a Certified Mortgage Advisor at the Martini Mortgage Group.
Contact Our Mortgage Specialist Today!
We will take you through how the homebuying process works; explain each step of the process and answer your questions. In addition, we'll provide you with a personalized analysis on your financial situation based on your application to learn how you can set yourself up financially to be able to meet your real estate goals based on your timing.
Kevin Martini | NMLS 143962 | Certified Mortgage Advisor and Producing Branch Manager | Martini Mortgage Group at PCL Financial Group (powered by Celebrity Home Loans, LLC NMLS 227765) | 507 N Blount St Raleigh, NC 27604 | (919) 238-4934 | www.MartiniMortgageGroup.com | Kevin@MartiniMortgageGroup.com | nmlsconsumeraccess.org |Equal Housing Lender