The headlines today about real estate and mortgage rates is not breaking news as advertised, it is a developing story.
If you only listen to the headlines of home value deceleration and fluctuating mortgage rates, you will miss the real opportunity that is present in housing. Today, the news has become so sensationalized and headline may be factual correct but they do not tell the whole story and that is why Raleigh mortgage broker and Certified Mortgage Advisor Kevin Martini hosted episode 149 of the Martini Mortgage podcast which is called: The loudest voice is an idiot!  
Recession
It appears inevitable that a recession is coming or worse, we are already in a recession. Based on history, mortgage rates rise leading into a recession because of inflation. At the end of the recession, over the last 5 recession, mortgage rates have fallen just under 2%.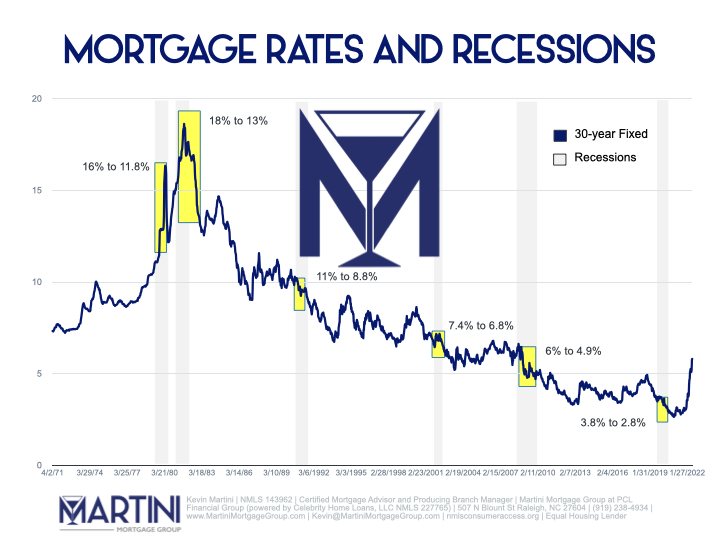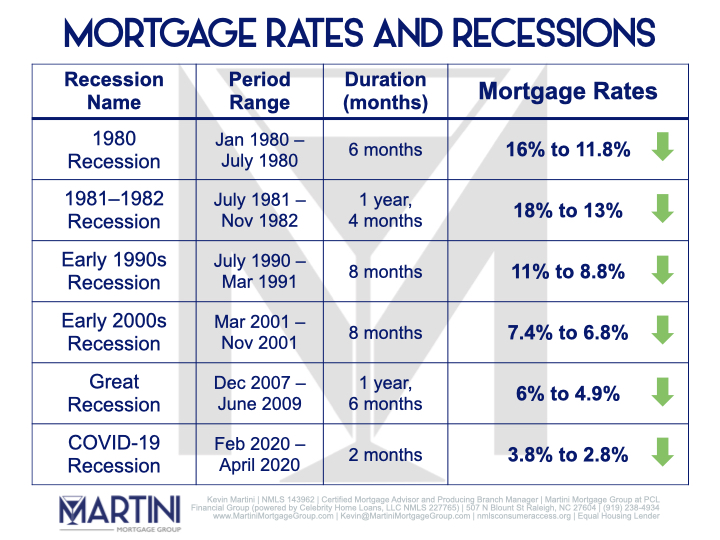 Martini Mortgage Podcast Transcript

Today we live in a digital world where our phones are constantly beeping with notifications. Then, shortly after you read the notification, your friend texts you the headline of what you were just notified on.
Even though we are in world where we feverishly get unsolicited information or we get on-demand 24-hours a day information we are seeking, I always ask myself this question, is the information that is being sent or is the information I secured actually correct. What do I think this, well, I have been in the financial services since the late 80's and I have worked exclusively in the real estate and mortgage arena since 2006 and today I am hearing pundits sharing obituaries of real estate because seasonally adjusted sales for 2022 are at 5.4 million vs the 6.1 million in 2021. These self claimed guru's are giving the eulogy for mortgages because mortgage rates have fluctuated upward this year.
Headlines often mislead people into thinking something but the really story is in the article and by looking at the data. Sure mortgage rates are higher and yes, less homes will be sold in 2022 than 2021. Both of these facts are accurate but misleading…let me expand, in 2022, there is projected to be more home sold then there were in 2019 which is before the veil pandemic reared its head and…from a historical perspective, mortgage rates remain near all-time low.
Welcome to special episode 149 of the Martini Mortgage Podcast, my name is Kevin Martini and I am a Certified Mortgage Advisor and a member of the National Association of Certified Mortgage Advisors. I help families create generational wealth in real estate with the right mortgage strategy. I am located in Raleigh, North Carolina however myself along with my very talented crew of mortgage professionals help families in all 100 counties of North Carolina and pretty much in ever state in the U.S. too! I am calling this special episode of the Martini Mortgage Podcast; The loudest voice is an idiot!
Let me start with mortgage rates and then shift to talk about real estate home values.
Higher mortgage rates do not cause inflation, inflation causes higher mortgage rates. With these historic high inflation readings, mortgage rates have moved upward in 2022. To me, home loan rates are still on-sale. Let me give you some perspective. When my wife and I purchased our first home, the rate was in the mid 9's and that was for an adjustable rate mortgage not even a fixed rate mortgage.
When something deviates from the expected, it is called an anomaly. The pandemic was an anomaly. The pandemic created a recession. Did you know in February 2020 we went into a recession. In February 2020, the 30-year fixed rate was at 3.8% and then on the other side of the recession in the April 2020 the 30-year fixed rate dropped to 2.8%.
The pandemic and the end of 2020 recession created an atypical mortgage rate environment. Money for a home loan was not just on-sale, it was on clearance. This clearance created a surge in home buying activity.
The pandemic clearance mortgage rate is no longer available however mortgage rates are still on sale and they are not at the suggested retail price. Check this out, in late 70's mortgage rates were over 11%. In the 80's mortgage rates were a little under 17% and that today is a credit card rate. In 1990, mortgage rates were more than 10%. When I say money is on sale, today you will likely get a better rate than when you parents purchased a home and a materially better rate than when your grandparents purchased a home too.
Here is one thing that you need to know. The first thing is this; it should always be home loan first and then go find your home. The second thing you should know is. it's OK to marring your home and date your rate. Almost all the families I have had the privilege to serve this year are dating their rate. All families I have served and manage their mortgage are right now are dating their rate and are married to their home.
History is crystal clear. The Fed takes action to get control of inflation. Granted they are always late to the party and they stay too long but they get the job done and the inevitable recession of 2022 will be in the rearview mirror. Once recession 2022 is in the book, mortgage rates would shift significantly lower. Don't believe me? Ok, let me share the raw data with you.
In the US there were six major recession since 1980. In the 1980 recession which lasted six months mortgage, mortgage rates went from 16% to 11.8%.
There was a recession that started July 1981 and it ended 16 months later in November of 1982. At the start rates were 18% and post recession went down 5% to 13%.
In the early 90's there was an 8-month recession and mortgage rates went form 11% to 8.8%.
When there was a recession in the early 2000's, the it lasted 8-months and mortgage rates went from 7.4% to 6.8%.
Then there was the great recession which lasted 18 months and mortgage rates dropped by more than 1%.
The COVID 19 recession was very brief. Mortgage rates went from basically 4% to 2.8%.
Now there is a couple things you are thinking right now because you were either part of the housing crisis in 2008 or someone you cared about was negatively impacted by the housing crisis.
It is critical to know, he great recession was caused by the housing crisis and it is critical to know that recession's do not cause housing crisis. The ingredients that caused the housing crisis are not present today and will not be rinsed and repeated.
As you have just heard, money is on-sale today and it is likely to go back on clearance once this inflationary pressure is relieved and you know what else is on sale today, homes.
You will be hearing chicken little shouting that inventory of homes for sale is up. It is an indisputable fact that months of inventory of homes for sale is higher in May 2022 that it was January of 2022. Oh by the way, May 2022 is the most recent data available at time of recording episode 149 of the Martini Mortgage Podcast.
In January 2022 there was a 1.6 month supply and in May 2022 there was a 2.6 month supply. Let me state the fact, some of this increase is because of more homes entering the market but the major reason is because there is slower pace in sales and that is not a bad thing. Let me say it another way, essentially right now there is the same inventory but with slower sales cycle and this represents an epic opportunity for a home buyer.
Granted, technically we are still in a Seller's market. You see when the supply of homes for sale is under 6-months, it is considered Seller market and when supply is greater than 6 months it is considered a buyer's market. So, we are under 6-months, why am I saying that right now is an epic opportunity for home buyers?
Simply put you a buyer has a stronger negotiating position today than they did in January. In addition, according to the home price expectation survey, home values are predicted to essentially have a 25% cumulative appreciation over the next 5-years and there is more, there is a housing supply shortage in the U.S. right now. According to the National Association of Realtors, there is currently a shortage of 5.5 million homes. This shortage will not be resolved in a year or even 5-years, it is going to take decades.
Now let me talk about existing home sales. They were 6.1 million in 2021 and the forecast is at 5.4 million for 2022. Yes, 2022 will have less sales than 2021 but remember that 2021 was part of the pandemic anomaly. 2022 will be better than 2019 and 2018 and is just a little less than 2017 however the year is not over.
Real estate is not ripe and written like many tabloids are sharing. Real estate is green and growing! Now is the time to marry your home. Yes, you can still get a 30-year fixed rate that you can date and take advantage of the historic downward momentum in mortgage rates post-recession. It is my opinion, based on history, there could be a 2% reduction in rate. Well when that happens, we will not longer date the rate, we will marry it.
In closing, there are a lot of talking heads peddling headlines to shock and scare…when you look at the data, it is clear, right now is the time to explore your homeownership options. My name is Kevin Martini and I am a Certified Mortgage Advisor and I provide the families I serve with bankable guidance by being transparent with all of the options. During our free consultation, I can tailor a program to meet your individual needs based on your unique situation. In addition, all the families I serve are empowered and have certainty.
You can reach me by dialing 919.238.4934.
Thank you for tuning in and please share this episode with someone you care about.
Now it is time for the disclaimer:
This material has been prepared for marketing purposes only. This is not a loan commitment or guarantee of any kind.
Loan approval and rate are dependent upon borrower credit, collateral, financial history, and program availability at time of origination.
Rates and terms are subject to change without notice.
The Martini Mortgage Group at PCL Financial is a division of Celebrity Home Loans, NMLS # 227765 with a Branch address of 507 N Blount St Raleigh, North Carolina 27604.
You can contact Certified Mortgage Advisor and Producing Branch Manager, Kevin Martini NMLS# 143962 by calling the Branch and that number is 919.238.4934. For a full list and more licensing information please visit: www.NMLSConsumerAccess.org or by visiting www.MartiniMortgageGroup.com – Equal Housing Lender