By Certified Mortgage Advisor and Raleigh Mortgage Broker Kevin Martini with the Martini Mortgage Group
In the heart of Wake County's bustling real estate market, potential homebuyers might wonder if now is the right time to invest in property, especially with Raleigh mortgage rates higher than in previous years. I'm here to explain why securing a mortgage now could be a financially savvy move, particularly in the vibrant city of Raleigh.
Understanding the Raleigh Housing Market Dynamics
As of October 31, 2023, the inventory in Raleigh and across the 63 Wake County Zip Codes reflects a mere 2.4 months' supply of single-family homes. This shortage stems from a decade-long underbuilding combined with a steadily climbing demand—a situation without a quick fix. While daunting, this challenge presents a unique opportunity for Raleigh homebuyers.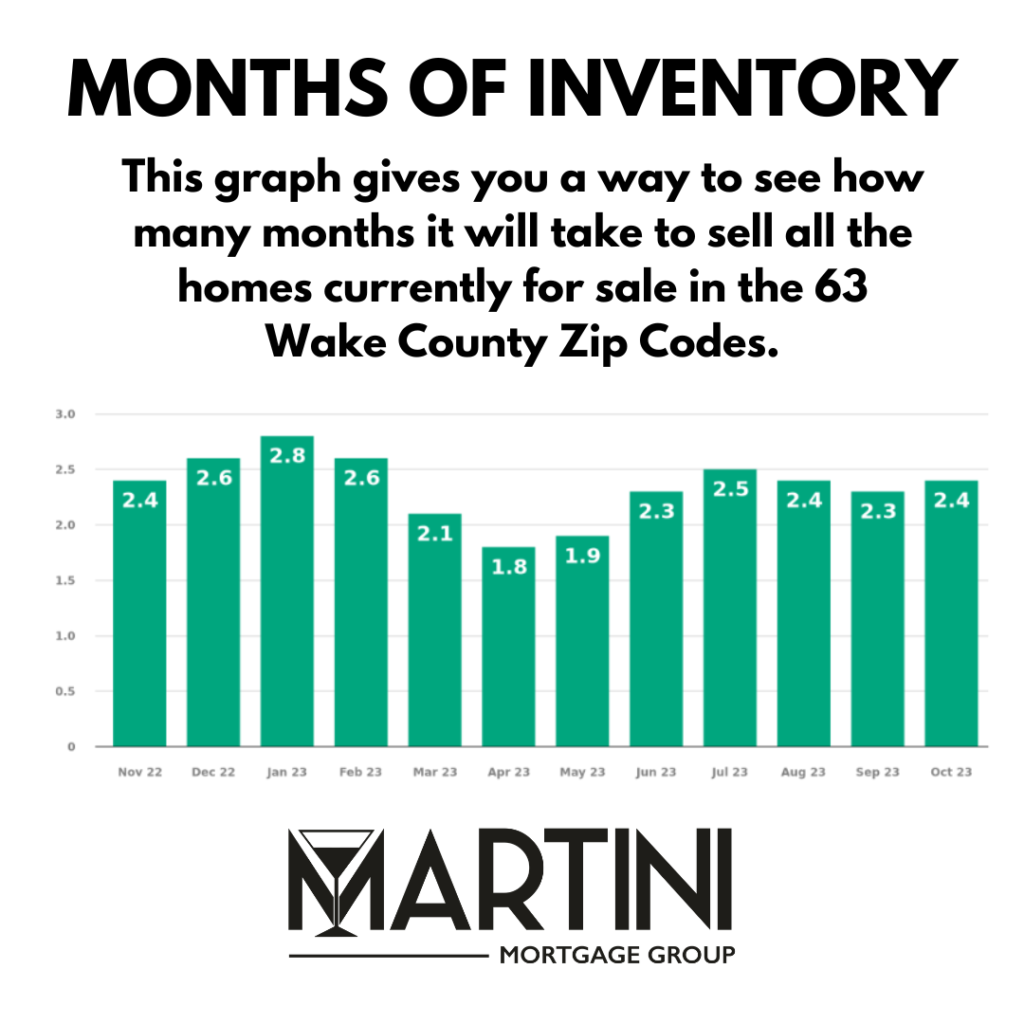 The Economic Advantage of Acting Now
The real estate forecast by Pulsenomics suggests an upbeat outlook, with an anticipated 6.4% increase in home values in 2024 and a 6.7% increase in 2025. Simultaneously, the Mortgage Bankers Association (MBA) predicts a dip in 30-year fixed mortgage rates to 6.1% by the end of 2024 and 5.5% by 2025. For Raleigh residents, these figures are not just numbers but a beacon for strategic investment.
A Raleigh Mortgage Case Study: Buying Today vs. Tomorrow
Imagine you're eyeing a $400,000 home in Raleigh with a 7.5% mortgage rate. Opting for a 30-year fixed-rate mortgage at an 80% loan-to-value, your principal and interest (P&I) payment would be $2,237. Fast forward to November 2025, the same home's value could climb to $454,115. If you delay your purchase, you could miss out on $54,115 of equity gain, plus you'll need a heftier down payment due to the increased home value.
But there's more. If you secured your Raleigh mortgage at today's rates, not only would you have accumulated equity, but by refinancing at the forecasted lower rate, your monthly P&I could potentially reduce to $1,782—a significant monthly saving.
The Case for Buying in a Seller's Market
Even in what's technically a 'seller's market,' a Raleigh homebuyer might have leverage. Currently, many homeowners possess mortgages with rates below 4%. When these homes hit the market, it often signals a motivated seller, which could be to your advantage.
Innovative Strategies for Favorable Raleigh Mortgage Rates
At Martini Mortgage Group, we're committed to providing strategic solutions for homeownership. For instance, the 2/1 Buydown we offer could effectively give Raleigh homebuyers access to lower mortgage rates upfront, enhancing cash flow and equity building from the get-go.
The Martini Advantage: A Proactive Approach to Homebuying
Embrace the 'Loan First, Home Next Strategy' we champion at Martini Mortgage Group. By securing the best possible mortgage rate before you shop, you place yourself in an enviable position to negotiate and find your dream home in Raleigh.
Your Raleigh Mortgage and Homebuying Journey Starts Here
Whether you're a first-time Raleigh homebuyer or seeking to navigate the Raleigh mortgage rates landscape, as a Raleigh Mortgage Broker, Kevin Martini, along with the Martini Mortgage Group, are here to guide you through every step.
The path to homeownership in Raleigh, even with higher mortgage rates, is paved with opportunities for savvy investors. Don't wait—now might be the perfect moment to move into the Raleigh real estate market. Connect with us at Martini Mortgage Group today, and let's explore how you can turn today's challenges into tomorrow's equity.
Homeownership Wealth Playbook
Unlock the secrets to Raleigh homeownership with the Homeownership Wealth Playbook. Navigate Raleigh mortgages and home loans with confidence. Presented by the Martini Mortgage Group, your trusted guide to building generational wealth through real estate.