For many aspiring homeowners in Raleigh, the big question is: "Where are home prices headed?" If you're a first-time homebuyer or a seasoned investor in the Raleigh area, understanding the projected trajectory of home prices is crucial. The general consensus from experts? Home prices will continue to appreciate.
What Do Experts Predict for Home Prices?
In a recent study, Pulsenomics conducted its quarterly Home Price Expectation Survey (HPES). Over 100 economists, investment strategists, and housing market analysts were polled. Their forecast? Home prices will keep climbing annually through 2027.
For those who've been worried due to stories of plummeting home prices, this should be reassuring. Regardless of local fluctuations, the nationwide trend points to steady appreciation. It's projected that even if the growth rate in 2024 isn't as substantial as that in 2023, the appreciation remains cumulative. Simply put a 3.32% increase this year, followed by a 2.17% rise the next year, compounds your home's value.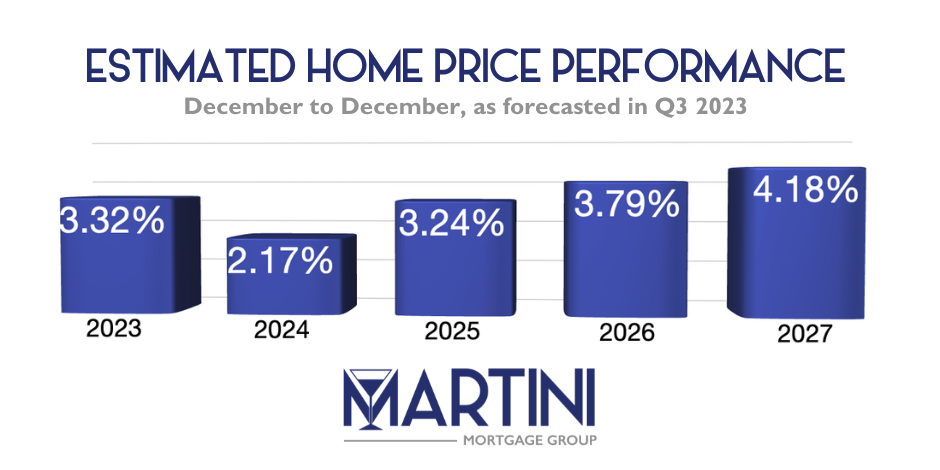 Raleigh Mortgage Insight: The Power of Appreciation
Take this hypothetical scenario for Raleigh homebuyers: You purchase a home worth $400,000 at the beginning of the year. With the projections from the HPES in mind, in five years, you could see an appreciation amounting to over $71,000 added to your home's value.
What's the significance for Raleigh residents, particularly for first-time homebuyers? Owning a home isn't just about having a place to live; it's a strategic financial move. As your home's value increases, so does your net worth.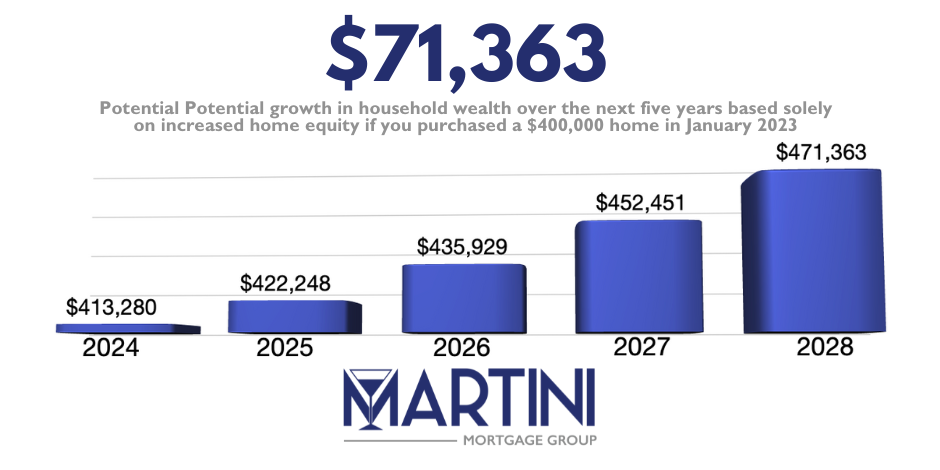 Why Homebuyers in Raleigh Should Act Now
Home prices in Raleigh and beyond are projected to grow consistently in the coming years. For those contemplating homeownership, acting now could pave the way for significant long-term financial growth. If you're on the fence, now might be the time to connect with a Raleigh mortgage broker, like the Martini Mortgage Group, to start your homebuying journey.
About Kevin Martini: Raleigh's Trusted Mortgage Lender
Kevin Martini, of the Martini Mortgage Group, has been a game-changer in the Raleigh mortgage landscape. Having originated over a billion dollars in home loans since 2006, Kevin's approach is rooted in creating lasting wealth through real estate. His expertise has not only earned him a spot among the top 50 Mortgage Originators nationwide but has also made him a go-to voice in esteemed publications such as Forbes and CNET.
For those seeking the best Raleigh mortgage broker, look no further. Kevin is committed to crafting the perfect mortgage strategy tailored to each client's unique needs, especially for Raleigh first-time homebuyers. His dedication extends beyond mortgages; Kevin actively shares insights on the Martini Mortgage Podcast and maintains a dynamic presence on Instagram and YouTube, ensuring his audience is always informed about the latest in real estate and mortgages.