In March 2020, following the COVID-19 outbreak, federal student loan payments and interest accruals were suspended. This was a lifesaver for many facing unemployment, wage cuts, or other pandemic-induced financial issues. However, as of June 2023, the federal decree affirms that this pause will cease. Consequently, borrowers must brace for payments starting October 1, 2023.
For many prospective homebuyers, this resumption might influence the chances of securing a mortgage due to potential hikes in monthly payments and renewed interest accumulation.
Raleigh Mortgage Broker Logan Martini shares, "It is important for people that have federal student loans to start planning for the repayment of their student loans now. By preparing, they can avoid late payments and interest charges and get on track to repay their debt."
Federal Student Loan Resumption: What You Should Note
Payments will resume on October 1, 2023. This means you must make your first payment on or before that date.
Interest will resume on September 1, 2023. This means that even if you don't pay in October, you will still accrue interest on your loan balance.
You will have a 12-month "on-ramp" period. This means you will not be penalized for late payments during the first 12 months of repayment.
You can still make payments while the payment pause is in effect. This can reduce the amount of interest you accrue.
Consider enrolling in an income-driven repayment plan. These plans cap your monthly payment at a percentage of your income.
You can also consider consolidating your loans. This simplifies your repayment and lowers your monthly payment.
Federal Student Loan Payments and Mortgage Eligibility: The Link
Credit reports showed a $0 monthly obligation towards federal student loans during the hiatus. However, entities like FHA, Fannie Mae, and Freddie Mac employed their mechanisms to project prospective payments, crucial for computing the Debt-To-Income (DTI) ratio – an essential mortgage approval metric.
While the pause showed $0 liabilities, FHA and Freddie Mac utilized 0.5% of the total loan balance as the payable amount, and Fannie Mae used 1%. Come October 1; these estimated amounts might differ from actual repayments. Higher-than-estimated figures could unfavorably tilt your DTI, jeopardizing mortgage sanctions.
The Role of Income-Driven Repayment Plans in Mortgage Approval
Income-driven repayment plans, exclusive to federal student loans, determine your monthly dues based on your discretionary income (income post necessary expenses). There are four primary IDR plans:
Pay As You Earn (PAYE): You pay 10% of discretionary income.
Repayment Income-Contingent (REPAYE): 10% of discretionary income, potentially less with dependents or if your spouse has student loans.
Income-Based Repayment (IBR): Your monthly payment is 15% of discretionary income.
Income-Contingent Repayment (ICR): Your monthly payment is 20% of discretionary income.
Under Fannie Mae, if an IDR pegs your monthly payment as $0, it won't influence your DTI. However, this doesn't apply to FHA or Freddie Mac.
Proactively preparing for the reinstatement of federal student loan repayments is crucial. Nevertheless, you should still be able to maintain your homeownership aspirations.
Understanding your financial position is pivotal whether you're a homeowner or planning to be one. Knowledge isn't just power – it provides clarity, confidence, and direction.
Should you seek insights on ideal mortgage strategies amidst the federal student loan resumption, don't hesitate to reach out. Whether diving into homeownership or just gauging available avenues, we aim to guide you toward an optimal choice tailored to your circumstances.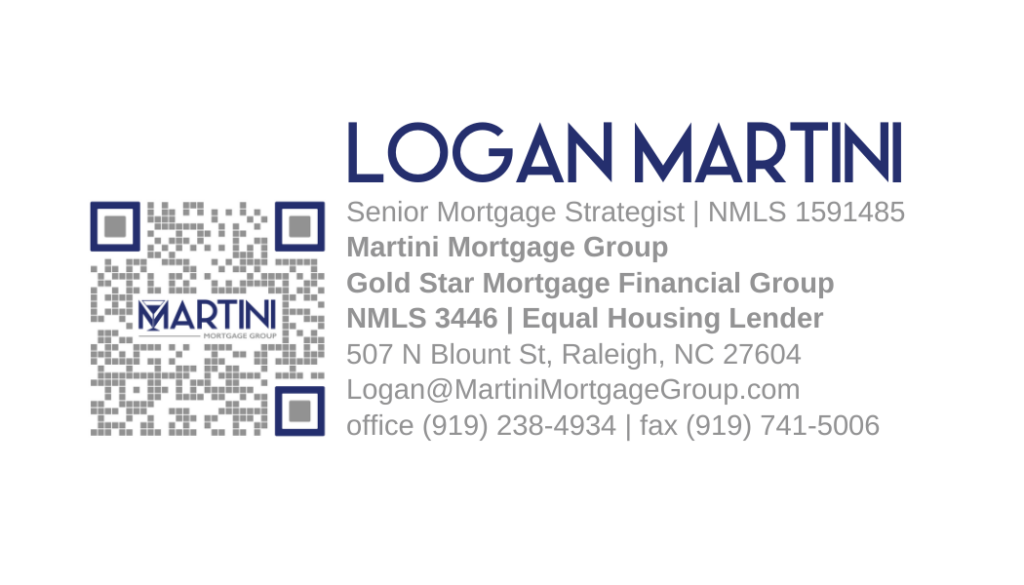 Logan Martini | NMLS 1591485 | Senior Mortgage Strategist | Martini Mortgage Group at Gold Star Mortgage Financial Group, Corporation | NMLS # 3446 | 507 N Blount St, Raleigh, NC 27604 | (919) 238-4934 | www.MartiniMortgageGroup.com | Logan@MartiniMortgageGroup.com | Equal Housing Lender