A home is not just a sanctuary that provides an address but the foundation for your safety and security. Likewise, owning a home isn't merely a material possession but a significant investment that reflects your hard work and determination. But don't let the pride of ownership blind you to the realities that come with it.
Homeownership is a journey filled with anticipated and unanticipated expenses. From the maintenance costs that ensure your home stands tall today to the future investments that promise its continued longevity.
Understanding these costs isn't just a smart move; it's essential. And it's about more than having the means to meet them but possessing the foresight to budget for them effectively. A well-planned budget will shield you from surprises and ensure the enduring value of your investment.
In the grand homeownership scheme, these expenses are not burdens but stepping stones on your journey. They ensure that the pride you feel in your home never fades and that the security it offers never wavers. Yes, a home is an investment, but more importantly, it's an investment in you.
I help the dream of homeownership become a reality. However, homeownership comes with various responsibilities and costs that often remain obscured by the excitement of owning a property. As a Certified Mortgage Advisor, I help the people I serve with careful analysis and shed light on the actual costs involved in owning a home.

Certified Mortgage Advisor and Raleigh Mortgage Broker Kevin Martini
The Initial Investment: Down Payment and Closing Costs
The journey to homeownership starts with an initial investment that goes beyond the regular monthly mortgage payments. A significant part of this initial investment is your down payment; the down payment typically ranges from 3% to 20% of the home's value.
However, the downpayment is more manageable than it may seem. The Martini Mortgage Group offers unique mortgage solutions for those looking for a different path to homeownership. In some instances, these unique options may eliminate the need for a down payment, making your path to homeownership easier.
Yet, there's another layer to the financial story of buying a home – the closing costs (a.k.a. settlement costs). These costs may include origination fees, appraisal fees, and other legal and administrative charges. Typically, they range from 2% to 5% of the loan amount. Although these costs may seem like additional hurdles, they are, in reality, steps that bring you closer to realizing your dream.
Mortgage Payments
Your monthly mortgage payment is the most prominent recurring cost associated with owning a home.
Your mortgage payment has two components – the first component, the principal, represents the actual loan amount – the cost of your home. On the other hand, the interest, its partner, is essentially the price you pay for the privilege of borrowing that sum. This pairing, in a nutshell, constitutes your monthly mortgage payment.
Homeowners Insurance and Property Taxes
Two additional essential elements are homeowners insurance (a.k.a. hazard insurance) and property taxes.
The cost of these necessities is not a fixed number but a fluid one, determined by your property's value, geographical location, and the specifics of your insurance policy. It might seem complex, but a handy rule of thumb simplifies it: In North Carolina, your annual homeowners insurance and property tax can be guestimated to roughly equal 1.25% of your home's value.
Mortgage Insurance
The keys are within your grasp, yet the requisite 20% down payment remains an obstacle. This is where mortgage insurance steps in, not as a hurdle but as a trusted ally.
If you are considering a down payment of less than 20%, you may encounter a companion known as mortgage insurance(a.k.a. PMI or MIP). Mortgage insurance is far from being a deterrent; it is, in fact, a facilitator. It opens the door to homeownership, even when the traditional 20% down payment seems out of reach.
Mortgage insurance's role continues beyond there. It stays by your side until you reach a particular equity position in your home. In most cases, once this milestone is achieved, it gracefully steps back, its purpose served.
Thus, mortgage insurance can be seen as a valuable ally on your journey to homeownership, enabling you to stride forward with confidence toward the dream of a home of your own.
Home Maintenance and Repairs
Unlike a renter, as a homeowner, you assume the responsibility for the home's maintenance and repairs.
These tasks can be as mundane as replacing a flickering light bulb or as consequential as fitting a new roof or furnace. Yet, regardless of their size or complexity, they are integral to the essence of homeownership, preserving the health and longevity of your investment.
How does one prepare for these duties? A trusted guideline is to set aside 1% of your home's yearly value for maintenance and repairs.
Utilities and Services
As a homeowner, you are responsible for all the utilities and services necessary to run your home. This includes water, electricity, gas, garbage collection, and in some cases, HOA (Homeowners Association) fees.

Navigating this path requires understanding how to meet these costs and the foresight to budget for them effectively.
The Martini Mortgage Group is here to sheds light on these costs, helping the dream of homeownership become a reality while elucidating the actual costs involved in owning a home.

From the initial investment, including down payment and closing costs, to monthly mortgage payments, homeowners insurance and property taxes, mortgage insurance, and maintenance costs – every facet of homeownership is an integral part of your journey. Moreover, as a homeowner, you embrace the responsibility of utilities and services, a necessary element that breathes life into your home.
Thus, homeownership isn't merely an investment; it's a testament to your determination and an investment in yourself. As you travel to homeownership, allow Kevin Martini, a mortgage broker and Certified Mortgage Advisor, to guide you, illuminate the hidden costs, and empower you to make informed decisions.
So, keep the excitement of owning a property clear from the responsibilities that come with it. Reach out to Kevin Martini today, understand the actual cost of homeownership, and explore your options. Equip yourself with knowledge, budget effectively, and transform your dream of owning a home into a reality.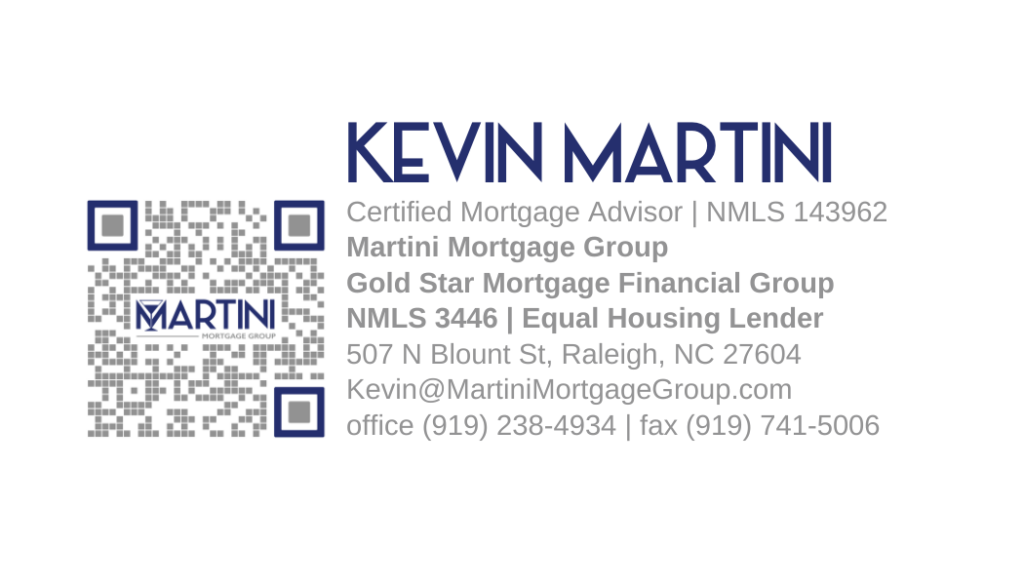 Kevin Martini | NMLS 143962 | Certified Mortgage Advisor | Martini Mortgage Group at Gold Star Mortgage Financial Group, Corporation | NMLS # 3446 | 507 N Blount St, Raleigh, NC 27604 | (919) 238-4934 | www.MartiniMortgageGroup.com | Kevin@MartiniMortgageGroup.com | Equal Housing Lender