2.9 Trillion - is the amount of mortgage bonds the Fed has purchased since March 2020. The Fed plans to reduce its bond holdings in the coming months which could drive up mortgage rates.
This is a Special Report by Raleigh mortgage lender and Certified Mortgage Advisor Kevin Martini on how the Federal Reserve impacts Raleigh mortgage rates.
THE FED IMPACTS FIXED-RATE MORTGAGES BY BUYING AND SELLING MORTGAGE BONDS.
Raleigh interest rates on fixed-rate mortgages change whenever the Fed buys or sells mortgage bonds, and whenever the Fed makes statements about buying and selling mortgage bonds. Since the pandemic hit the economy in March 2020, the Fed has purchased an eye-popping $2.9 TRILLION of mortgage bonds, making it the biggest buyer of bonds in the market. This purchase of mortgage bonds by the Fed is what caused caused Raleigh interest rates to go down to record levels.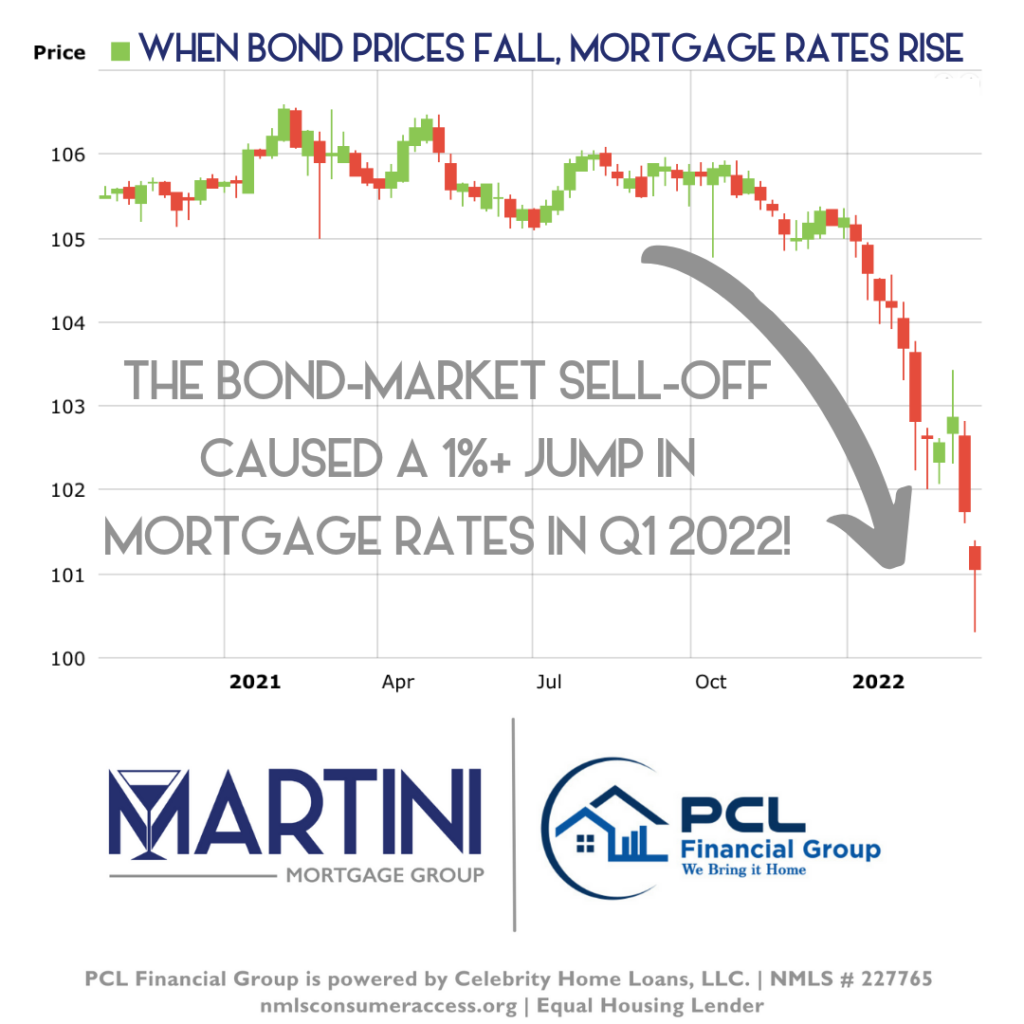 However, as you can see from the chart above, mortgage bond prices fell off a cliff in Q1 2022 when the Fed announced it would be scaling back its massive bond-buying program. When mortgage bond prices go down, mortgage rates go up. The average interest rates on fixed-rate mortgages went up by 1% + so far this year according to Freddie Mac's weekly survey of mortgage rates.
I expect more volatility in mortgage rates as the Fed continues to release more details about when and how it plans to roll back its bond-buying programs and reduce its bond holdings.

Raleigh Mortgage Broker & Certified Mortgage Advisor, Kevin Martini
THE FED IMPACTS HOME EQUITY LINES OF CREDIT BY CHANGING THE "FED FUNDS RATE" NOT MORTGAGE RATES.
Raleigh interest rates on home equity lines of credit (a.k.a. HELOCs) change whenever the Fed lowers or increases the "Federal Funds Rate." That's because HELOCs are based on the Prime Rate and the Prime Rate is based on the Fed Funds rate. The Fed increased rates in March 2022 for the first time since 2018 and indicated more rate hikes are on the way. This means that rates on home equity lines of credit are likely to increase significantly by the end of 2022.
WIth the projected increase in HELOCs cost, one should consider refinancing the balance into a new first fixed rate mortgage and lock in their housing costs.

Raleigh Mortgage Broker & Certified Mortgage Advisor, Kevin Martini
Credit cards, personal loans, student loans, auto loans and business loans are directly impacted when the Fed raises rates
MARTINI MORTGAGE GROUP TOP 3 RISKS TO RALEIGH HOME LOAN RATES FOR THE BALANCE OF 2022
Inflation
The nemesis to a bond is inflation because inflation erodes the bonds return. Right now, bonds are trading at negative yields relative to inflation. For example, if a bond investor is earning 3% and the inflation rate is 7%, the investor is losing 4%. At some point, it seems likely that bond investors may demand higher yields in order to account for higher inflation. This could drive up Raleigh interest rates even higher.
The Federal Reserve
The Fed has injected an eye-popping $4.516 Trillion into the economy since March of 2020 by buying Treasury bonds and mortgage bonds. 2.9 Trillion of the 4.516 Trillion of stimulus was mortgage bonds. This infusion caused Raleigh mortgage rates to go down to record levels. As the Fed unwinds the mortgage bond purchases, many economists are anticipating that Raleigh home loan rates will rise significantly.
Good News vs. Bad News
As a primer, news impacts Raleigh mortgage rates. On the aggregate, when negative news about the economy hits the wires, investors flock to the bond market for safety, driving down interest rates. When positive news hits the wires, investors shift their bias toward stocks and away from bonds, causing interest rates to go up. Many economists are anticipating that the economy will remain strong in 2022 however with geopolitical events and unwinding of the 2.9 Trillion of mortgage bonds, it is likely that Raleigh home loan rates may go up as a result.
Let's Chat About Raleigh Mortgage Rates and How You May Benefits from Buying a Home Or Refinancing Your Current Home.
If you have question about this article, if you have questions about buying a home as a first-time homebuyer or as a repeat homebuyer, if you have questions about refinancing your current home loan, simply call the Martini Mortgage Group at PCL Financial by calling (919) 238.4934.