If you are a first-time homebuyer or a repeat homebuyer, there are many things to consider when buying a home.  Certified Mortgage Advisor Kevin Martini and Senior Mortgage Strategist Logan Martini curated the Fall 2022 Martini Buyer Guide to simply explain the current real estate and mortgage markets plus vital information about buying a home and the process of getting a mortgage.  The Fall 2022 edition of the Martini Buyer Guide has a dozen of informative articles that talk about things one needs to know about the current real estate and mortgage markets.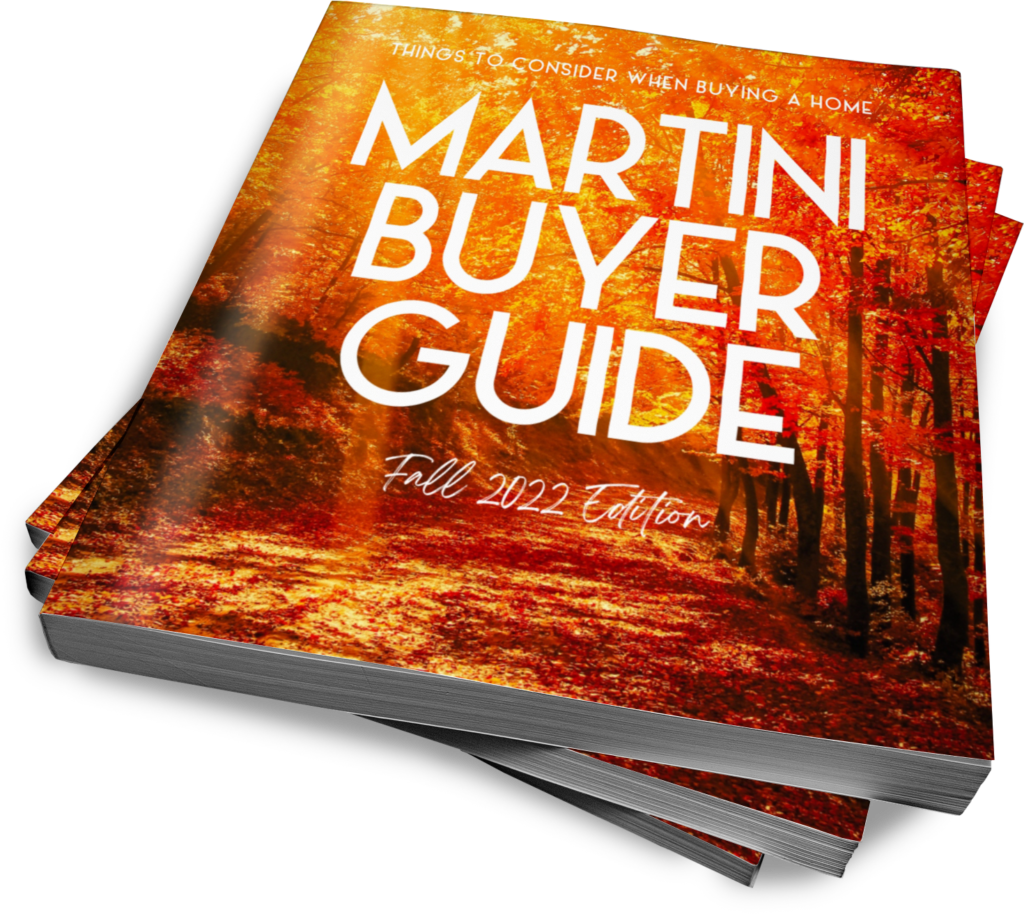 If you are buying real estate, if you are selling real estate, if you are refinancing a mortgage or if you work in the real estate arena then the Fall 2022 Martini Buyer Guide would be very helpful since it simply explains the current real estate and mortgage opportunity.
The Fall 2022 Martini Buyer Guide was curated to simply explain what is going on in the real estate and mortgage markets.

Logan Martini, Senior Mortgage Strategist & Raleigh Mortgage Broker
Contents of Martini Buyer Guide (Things to Consider when Buying a Home)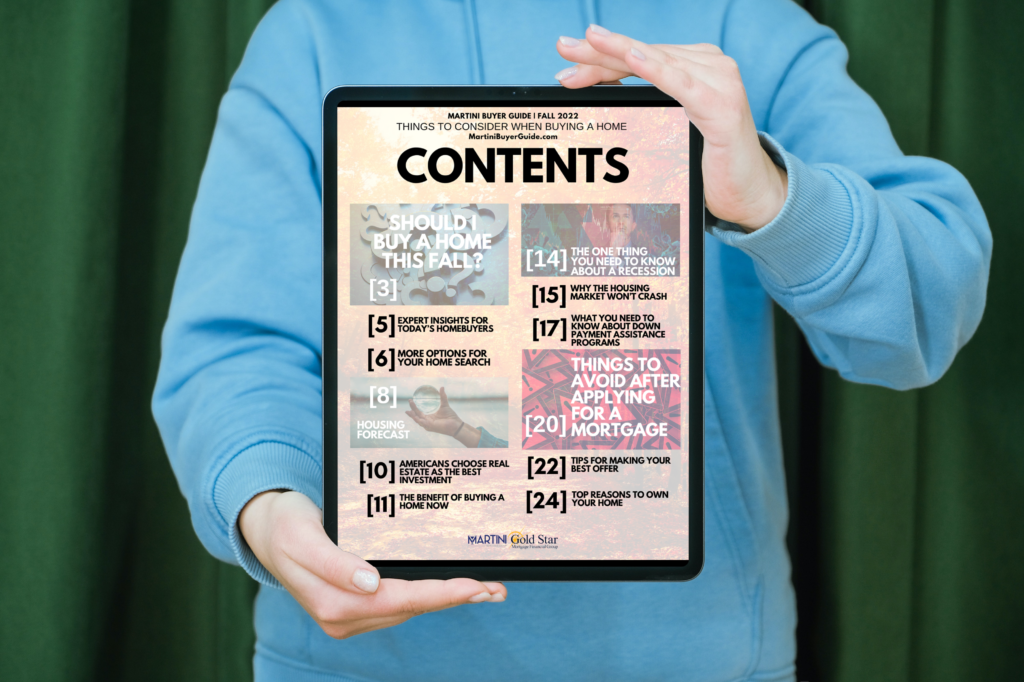 Should I Buy a Home This Fall?
If you're wondering if it's the right time to buy a home, you should know you have an opportunity to grow your wealth, stabilize your expenses, and benefit from more options for your home search this fall.
Expert Insights for Today's Homebuyers
If you want to buy a home today, here are a few things experts say you should know about what to expect and why homeownership is so important.
More Options for Your Home Search
There's no denying the housing market has delivered a fair share of challenges to homebuyers over the past two years. Two of the biggest hurdles were the limited number of homes for sale and the intensity and frequency of bidding wars. But those two things have reached a turning point.
Housing Market Forecast
The housing market is at a turning point, and if you're thinking of buying a home, that may leave you wondering: is it the right time to make a move? Let's turn to the experts for what the future is projected to hold.
Americans Choose Real Estate as the Best Investment
You're not just buying a place to call home, you're investing in your future.
The Benefit of Buying a Home Now
You may be asking yourself: should I buy right now, or should I wait? While no one can answer that question for you, here's some information that could help you make your decision.
The One Thing You Need To Know About a Recession
The one thing you need to know as you watch the news and read the headlines today is that a recession does not mean falling home prices.
Why the Housing Market Won't Crash
With all the buzz in the media, you may start to worry the housing market is in a bubble. While it's only natural for concerns to creep in that there could be a repeat of what took place in 2008, the good news is there's concrete data to show why this is nothing like the last time.
What You Need To Know About Down Payment Assistance Programs
When it comes to buying a home, it can feel a bit intimidating to know how much you need to save. Here's some information you'll want to know about programs that could help you reach your down payment goals.
Things To Avoid After Applying for a Mortgage
Consistency is the name of the game after applying for a mortgage.
Tips for Making Your Best Offer
While the housing market is going through a shift, it's still competitive for buyers because the overall inventory of homes for sale is low. Enjoy having more options as supply continues to grow this year, but keep these tips in mind to help you put in a strong offer once you find the one.
Top Reasons To Own Your Home
Homeownership has tangible and non-tangible benefits.
Getting a home loan and buying a home is a process…NOT an event.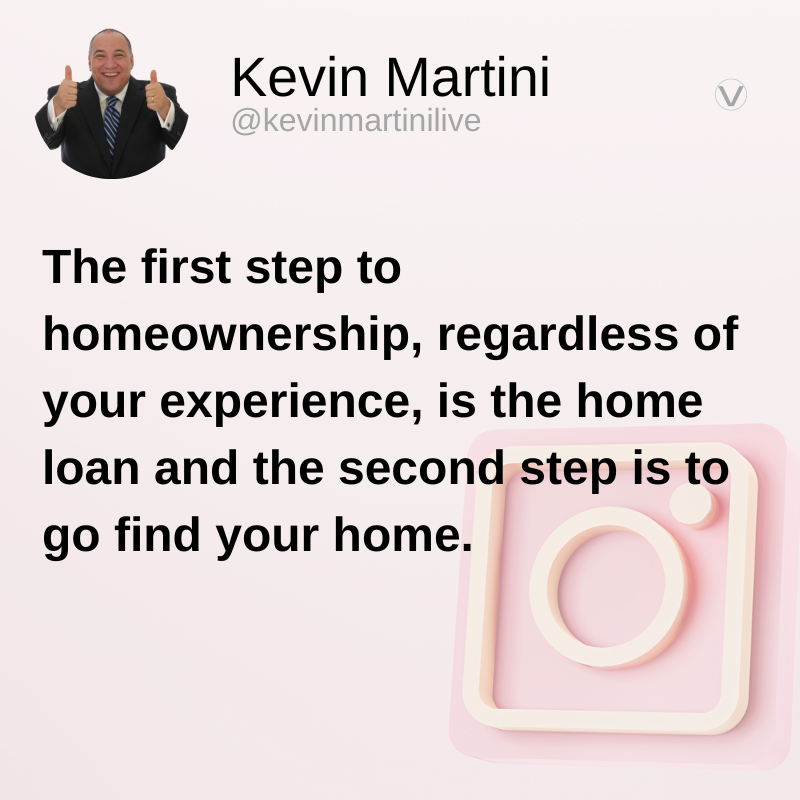 There is no question that getting a mortgage and buying a home in Raleigh, anywhere in North Carolina or in the U.S. for that matter, is a process…it is not an event. Since there is never a substitute for education, the home buying process needs to start with education of options available for your home loan regardless of the experience level of the homebuyer. The Martini Buyer Guide was created to provided factual information based on reliable sources and provides relevant information that go beyond the headlines. Kevin Martini and Logan Martini understand that purchasing a home is more than just one single event. It is a process. They want to work with you during the process, to help you understand the process and help it go as smoothly as possible. Let them help you develop a plan that leads directly to homeownership and financial success, beginning with getting Approved for your Raleigh or Triangle Area or North Carolina mortgage today!
Certainty with a Frictionless Process
It has always mattered who does your mortgage however this sentiment is most important now as we live in a post-Covid world. Communicating to a seller that you are just ready and willing to buy is not enough! You need to communicate that you are able and this means you are able to make a 'Same-As-Cash' offer from a local lender that constantly provides on-time real estate closing that are frictionless. and provide certainty to all involved. An approval letter from a Mortgage Strategist with the Martini Mortgage Group at Gold Star Mortgage Financial Group, Corporation provides certainty that the transaction will happen and it will happen on-time without stress.
NMLS 143962 | Certified Mortgage Advisor | Martini Mortgage Group at Gold Star Mortgage Financial Group, Corporation | NMLS # 3446 | 507 N Blount St, Raleigh, NC 27604 | (919) 238-4934 | Kevin@MartiniMortgageGroup.com
NMLS 1591485 | Senior Mortgage Strategist | Martini Mortgage Group at Gold Star Mortgage Financial Group, Corporation | NMLS # 3446 | 507 N Blount St, Raleigh, NC 27604 | (919) 238-4934 | Logan@MartiniMortgageGroup.com